We build ground-breaking metaverse solutions and assets that deliver real business value
We build ground-breaking metaverse solutions and assets that deliver real business value
Metaverse is a representation of the real world in a virtual setting – a network of 3D worlds focused on social connection. Dubbed by technologists as a trillion-dollar revenue opportunity, metaverse uncovers opportunities across verticals and industries. With our extensive experience in blockchain and immersive reality tech, we help brands and companies strategize, design and develop integral metaverse components including 3D virtual spaces, metaverse NFT marketplaces, metaverse applications and decentralized platforms.
We build apps for brands that will be part of their ecosystem and make up their metaverse. We build all kinds of apps, be it presentations, tours, social communication, learning etc., implementing them as well as tie them together with the metaverse platform as a whole.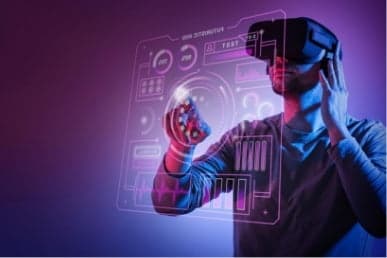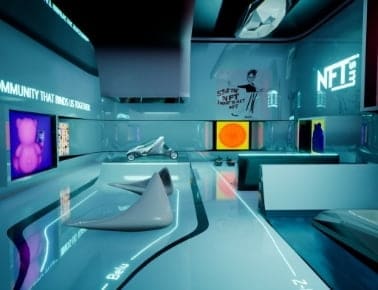 We provide scalable 3D space design and development services to metaverse projects, expanding use-cases across new concepts. We work on 3D visualization, 3D modeling, and interoperability components.
Metaverse uses blockchain-based technologies, NFTs (Non-Fungible Tokens) and cryptocurrencies to create its own virtual economy. NFT marketplaces can be accessed to trade artwork, custom outfits, virtual real estate and many other assets. Whether you want to create your own blockchain-based NFT marketplace, or build an NFT-based product for an existing metaverse (such as Fortnite or Roblox), our experts at 10Pearls can guide you from research to delivery.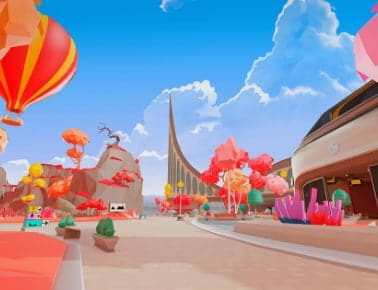 We help companies build virtual spaces where cryptocurrency users can conduct operations with their digital assets. These VR-based solutions can be optimized and connected to blockchain, and also include in-space activities like gaming and socialization.
Simulations and Digital Twins
Utilizing cutting-edge immersive tech, we help brands build digital twins – real-life, virtual counterparts – and detailed simulations. These are immensely useful to conduct experiments, calculations and predictions for the physical world based on virtual models.
Our highly-skilled developers can work effectively on versatile tech stacks, allowing us to add numerous integrations into custom metaverse development. From implementing APIs, to architecture and data tools, we provide integration services that help improve the features and functionalities of your Metaverse.
Non-Fungible Token and Marketplace Development
Our advanced NFT development services will help you create unique NFTs based on ERC-721 token standards. These NFTs can be assigned to artwork, collectibles, videos, or any other digital assets. Our blockchain specialists are also experienced in building robust non-fungible token marketplaces that permits clients to buy, sell and explore digital assets.
Multi-format security
We provide multi-level, multi-format security protocols and technologies, such as data encryption, cross-site prevention, SSRF protection, HTTP parameter protection, DDoS Protection, Multi-sign Wallet etc.
P2P transactions
We provide decentralized P2P exchange/information sharing, with no middle man, ensuring faster and securer solutions.
Blockchain integration
Our solutions are integrated with blockchain directly, ensuring no information is lost or added, also making it a secure platform.
Cross-platform support
Our metaverse can smoothly run on mobile devices, desktops, and other operating systems.
Multi-Currency Support
We provide the provision of multi-currency support within a specific platform, covering a wide audience and allowing users to trade and transact seamlessly.
Dedicated Team
We provide a full team of specialists including PMs working exclusively on your project and handling it end-to-end.
Team Augmentation
You can choose multiple specialists from our workforce to join your team. This lets you have full authority over a project is managed.
Project-based Model
We partner with your company and complete the project end-to-end, with your feedback and input along the way.
10Pearls is an award-winning digital development company, helping business with product design, development and technology acceleration

Double – Bottom Lined Co Profits & Social Good

Our CEO and Founder awarded EY Entrepreneur of Year
Digital Experience & Enterprise Mobile Partner
Top Developer DC & Baltimore Metro Area
Recognized as ML/ AI Technology Partner
Digital Experience & Enterprise Mobile Partner