Keeping pace with technological change is no easy task. At 10Pearls, we instill a culture of continuous learning to help our workforce and community stay ahead of the latest trends in emerging tech, changing markets, and industry specific innovation. Our center for continuous learning – 10Pearls University, offers professional development programs and technical trainings aimed to promote internal growth, community engagement, and diversity.
Internal Onboarding and Professional Development

After making it through 10Pearls' competitive hiring process (for development positions, we receive more than 6000 applications each year), new employees take part in 10Pearls University's bootcamp, which includes rigorous training on emerging technologies in addition to a number of soft skill trainings. After the bootcamp, all employees continue to learn from a blend of in person-trainings, webinars, and collaborative events (hackathons, code challenges, etc.) throughout the year. Through our mentorship program and partnerships with world-renowned tech experts, we foster an environment of connected learning.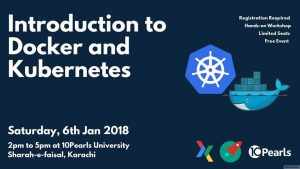 Community Events
10Pearls University also hosts a number of public events and trainings aimed at engaging and nurturing the local tech community. Industry liaison initiatives provide an opportunity for likeminded technologists to learn from and challenge one another. We host several events a month, from informal tech meet-ups to speed coding competitions and presentations from tech experts from companies like Google and Microsoft.
Women in Tech
Diversity and inclusion are among our core values at 10Pearls. Since our founding in 2004, we made a commitment to empowering women and supporting programs that encourage women to pursue careers in tech. By hosting events such as female only hackathons, and engaging in partnerships with local tech groups such as Circle Women, 10Pearls has become a premiere destination for women in tech. We aim to attract and retain a talented and diverse workforce in both D.C. and Karachi, and as of January 2018, 50 percent of new hires at 10Pearls are female.
10Pearls is an innovation driven company focused on delivering the latest in digital development to our clients. Our success correlates directly with our investment in technical talent through 10Pearls University. We enable our employees to establish unmatched expertise in a broad range of services, and regularly connect with a community of talented technologists.