Our Key Takeaways from ACT-IAC Imagine Nation ELC 2018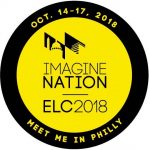 Last week a few of us from the 10Pearls team attended ACT-IAC's Imagine Nation ELC 2018 in Philadelphia. Imagine Nation brings together forward-thinking government agencies and corporate organizations to explore and develop innovative ideas and practical approaches to improving mission delivery through technology.
Here are a few of our key takeaways from this year's event:
CX is Taking Hold Among the Government
While individual agencies have been employing citizen-centric approaches for some time, especially those with transactional tasks (e.g., the State Department with passport issuance), the government as a whole is beginning to embrace or adopt customer experience thinking and methodologies. Government-wide guidelines have been issued, and modernizing agencies are trying to connect CX to their missions, budgets, and day-to-day interactions with citizens. This is perhaps most apparent at the Department of Veterans Affairs.
Prototyping is a Viable Option
A growing number of agencies are, if not wholly replacing, then supplementing traditional procurement processes with calls for prototypes. Don't just tell me about some software that might solve my problem, create a prototype that shows me. This, in turn, emphasizes speed and agility in reacting to government needs. Despite its growing popularity, there remain strong headwinds, which makes prototyping approaches to procurement still the exception… for now.
Data is the New Oil
The government has started to realize the power of all the information they capture on a regular basis and are looking for ways to get value from it. Many discussions at ELC were around how large datasets, such as healthcare records from the Veteran's Administration, weather data from NOAA, and contracting data from GSA could be leveraged to streamline processes and improve predictability in the future. Central to these efforts is artificial intelligence (AI) and machine learning (ML) systems, both of which are being prototyped and experimented with across the government.
Procurement is Broken
Both contractors and the government agree that procurement processes are broken – primarily out of a fear of being sued or having contract awards protested. As a result, traditional government procurement is being disrupted. Alternative approaches such as Other Transactional Authorities (OTAs) create closer working relationships between contracting officers and contractors, which allows them to openly discuss requirements and collaborate to create the best contracting approach for each situation. In certain circumstances, the government is even considering allowing purchases to be made on open commercial markets.
About 10Pearls
We build future-ready solutions that empower federal agencies to do their best work, eliminate inefficiencies, and achieve lasting results. Specializing in human-centric design, enterprise software development, mobile and web applications, artificial intelligence and machine learning, we help agencies anticipate and respond to their most pressing challenges. Contact us today to learn more.
Suggested Content
Department of Homeland Security [Case Study]
DC Taxi [Case Study]