10Pearls Named a Leading Developer of 2019 by Clutch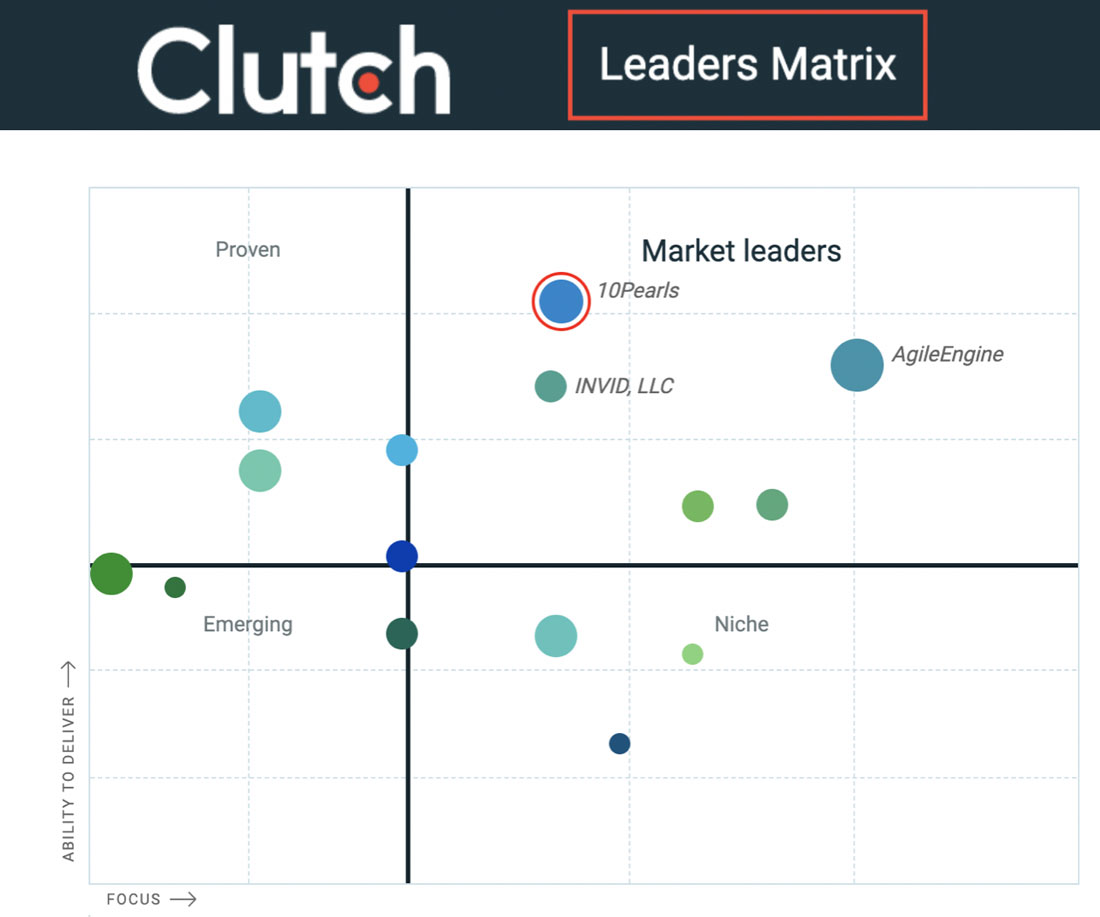 10Pearls is excited to place on Clutch's list of the best developers in Washington, DC for 2019. The ratings and reviews platform, named a 2018 LinkedIn Top Startup, annually highlights international industry leaders across every market sector in the B2B space.
Located nearby in downtown DC, Clutch connects companies with the best-matched service providers for their needs. Business analysts conduct in-depth phone interviews with former clients to lay out the full scope and efficacy of B2B engagements.
Our entire team at 10Pearls is proud to be recognized as a partner who can elevate complex development projects and help our clients fuel the acceleration of their business growth.
Clutch's sophisticated scoring methodology assesses several critical factors:
Market presence
Online reputation
Verified client reviews
Service lines
Portfolios
Ability to deliver
Based on the results of this professional analysis, 10Pearls is also on the following leaders' matrices:
At 10Pearls, we're focused on delivering real value to our customers. "Every business needs to accelerate and deliver on the technology roadmap," says CEO Imran Aftab. "They need to get this done faster, cheaper, and better to stay ahead of their competitors."
We take pride in our work and exclusively offer our clients the utmost quality of service and deliverables.
The Manifest, a Clutch sister site, also noted our top-ranked achievements in several fields of technology:
Covering trending topics on the state of tech and actionable how-to guides on best practice, the platform uses in-depth insight to identify B2B leaders in the digital space.
Our inclusion in several data-driven agency shortlists is a testament to 10Pearls' commitment to excellence and customer satisfaction.
10Pearls would like to thank Clutch for this award. We are thrilled to stand out among the world-class talent in such a competitive city as our nation's capital. It's always a pleasure to hear about the success our collaborations have yielded for our past and present partners.
Check out our Clutch profile to hear how we can empower your company with cutting-edge digital transformation solutions — directly from our clients.