10Pearls: A Top B2B Company in Latin America

In 2020, the value of trust is at an all time high, and 3rd parties like Clutch are a great field guide. Building trust is about establishing a track record of success, and how better to do so than sharing the glowing validation of real clients? That's why authoritative business directories like Clutch matter.
10Pearls understands that innovation is imperative, especially in the face of economic turbulence. Having a technology partner whose character and quality you can trust is just as important as any other criteria you need in an end-to-end services firm. That trust, which our customers happily attest, has been the backbone of our success. 
We are delighted to announce our nomination by Clutch as a Top B2B Company in Latin America. At 10Pearls, our team culture, experience, and human-centered approach enables us to imagine and build unique digital solutions for our partners around the world through our delivery centers situated globally: stateside, nearshore and offshore. Through our nearshore location in Colombia, 10Pearls is able to provide better time-zone overlap to our US customers, especially those in the West Coast.
"We're proud and thankful for our capacity to innovate and grow our footprint in Latin America," says Joshua Konowe, Head of Innovation at 10Pearls. "10Pearls offers a complete suite of application and digital transformation services, backed by world-class creatives and engineers that allow us to develop ground-breaking digital solutions with partners worldwide." 
We especially want to thank our clients and partners for their honest reviews and for making this recognition possible. Below is one of the dozens of glowing reviews provided by happy 10Pearls clients, providing a snapshot of our work.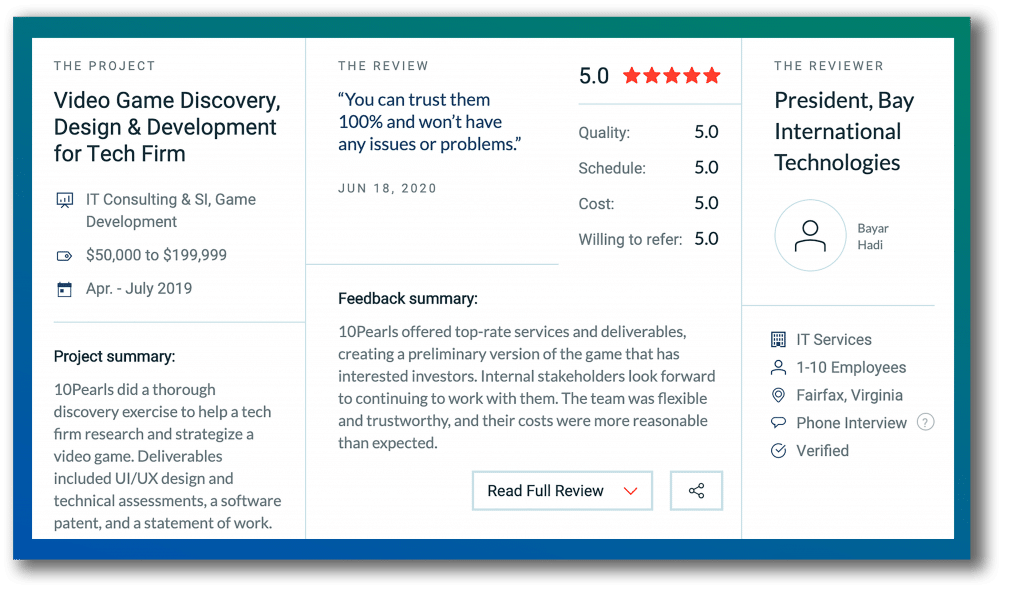 Verified as a premiere emerging technology partner, 10Pearls has nearly 30 client reviews, collected directly by Clutch analysts, with an overall 4.9 rating out of 5, based on Clutch's extensive research process. We are also thrilled to be recognized for digital transformation as:  
#1 in Colombia 
#5 in Latin America 
#4 in the World  
A big thank you to everyone who has contributed to our success. We look forward to consistently innovating and creating impactful solutions.