10Pearls University holds WTQ 2022

Women Tech Quest 2022, an initiative of 10Pearls University, is a platform for women to compete, network, and showcase their tech talents. The 6th edition of Women Tech Quest (WTQ) took place on March 12, 2022, and was physically held in Karachi, Lahore and Islamabad. Over 1200 women in technology from across the three cities took part in the event.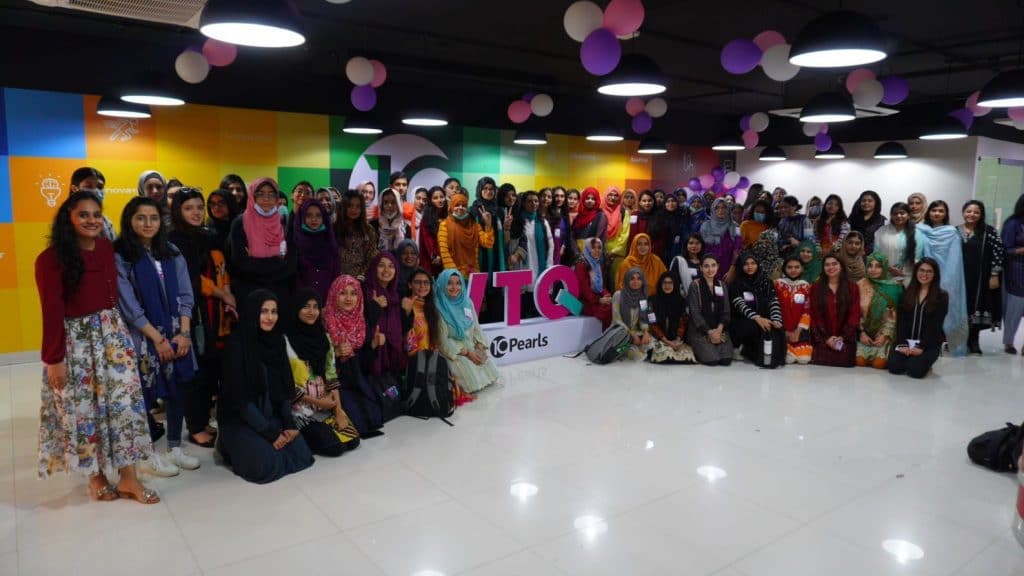 WTQ, launched in 2017, is a tech event dedicated to help women assess and showcase their tech skills, get recognition and exposure, and win cash prizes and gifts. Additionally, the inspirational speaker sessions and hands-on workshops led by accomplished professional women help the budding professionals grow and excel.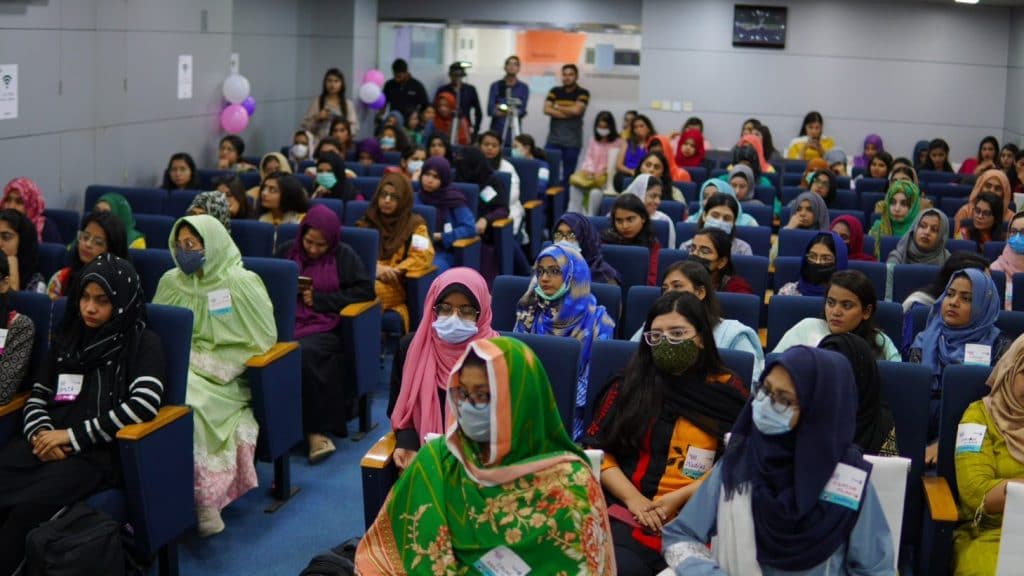 Winners from multiple competition streams
The competition comprised three streams; Coding, Testing and Design, and each stream had two categories for participation: Professional and Student. Winners were selected from each city, and were awarded cash prizes and shields. All participants received swag kits and certificates of completion.
Category

Testing

Coding

Design

Professional

Maryam Nasir
Maha Waqar
Syeda Urooj Fatima

Riaheen Ali
Hermain Zehra
Afshaan Saad

Sadia Mehmood
Bushra Hassan
Lalain Anwar

Student

Hina Khadim
Laraib Waheed
Myra Rafique Khan

Sidra Tanveer
Noorah Ahmed

Adeena Bilal
Atka Shoaib
Extensive coverage by leading media outlets
WTQ 2022 was covered extensively and exclusively by leading media outlets of Pakistan, applauding 10Pearls for its consistent and growing efforts to empower women and facilitate gender diversity.
Top coverage includes:
Dawn Images: Images (the lifestyle and social division of The DAWN Media Group) did an extensive coverage of WTQ, shedding light on how 10Pearls is working towards increasing female representation in the IT industry of Pakistan. The article has been widely shared and commented on, with the public lauding the initiative and role of 10Pearls team.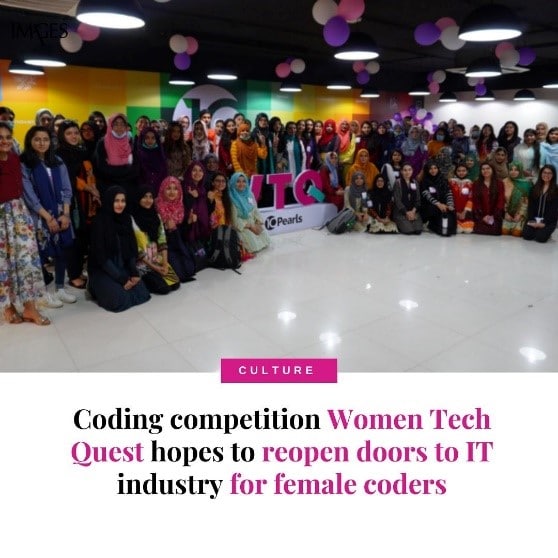 Daily DAWN: WTQ was covered in Dawn's Sunday print + digital edition, highlighting 10Pearls' contribution in showcasing tech skills of women. Dawn is Pakistan's first and leading English-language paper, and making it to the Sunday edition is considered a great honor.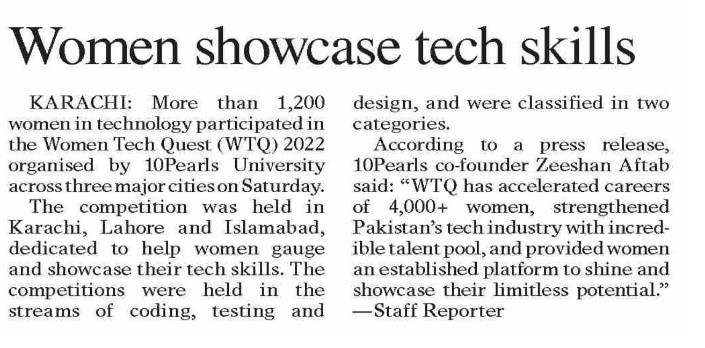 Business Recorder: Titled "WTQ 2022: Coding their way to inclusivity", the detailed article covered the challenges women in tech face, and how 10Pearls and WTQ is addressing them head-on. The article covered the significance of mindset changes, the need of a conducive platform, and how WTQ is helping bridge the talent gap in tech industry.
GEO TV: One of the top-rated channels of Pakistan, Geo TV featured WTQ 2022 in its widely-watched Morning Show, inviting two of the winners to share their experience of not just winning the contest, but also networking and learning at the event.
Pakistan Television Network (PTV): PTV, Pakistan's national, state-owned broadcaster, also ran a news package about WTQ. The package covered the event, and also highlighted how tech companies like 10Pearls are contributing to Pakistan's economic growth and gender inclusivity. PTV is aired globally and throughout Pakistan, spreading the visibility of Women Tech Quest to all major and small cities, towns and villages of Pakistan.

In addition to the above, WTQ was covered by various other electronic and digital media, both pre-and post- event, including Tech Juice, Technology Times, News Update Times, Techx, PakistanTechNews etc.
Inspirational speaker sessions and workshops
Apart from the Competition, WTQ also featured invigorating speaker sessions by women in top leadership roles such as Halima Iqbal, CEO/Founder, Oraan; Dr Asia Khanum, Founder of Emerging Technologies Labs; and Fatemah Sajwani, Manager, Global Talent Sourcing at KeepTruckin. The opening keynote was delivered by Carrie Kerpen, CEO, Likeable and Managing Director, 10Pearls.
In her opening note, Carrie shared her enriching journey to the top, and stressed on the importance of staying authentic, "Own who you are. If you lean in to who you are and work the best parts of yourself, you'll see the path of growth and be destined for success!" 
The event also hosted interactive workshops on Mental Maps for Personal Leadership and Success by Uzma Sadaqat, Founder, Wellnesshive; and Find your Balance by Dr Tasnim Rehna, Professor, Department of Applied Psychology, NUML Islamabad.
Endorsed by leading companies
As the event of the year for tech women, WTQ 2022 was endorsed by top names in technology and other industries. This time, the event partners included names such as AWS Pakistan, NIC Karachi, Microsoft Learn Islamabad, GDG Islamabad, WomenTechmakers Lahore, PWiC, Epiphany, CaterpillHERS and PITB. The event was sponsored by KeepTruckin, Sastaticket.pk, AWS Community Pakistan, Swvl, GiftKarte, Hunza Candles and Junkie Crafts.